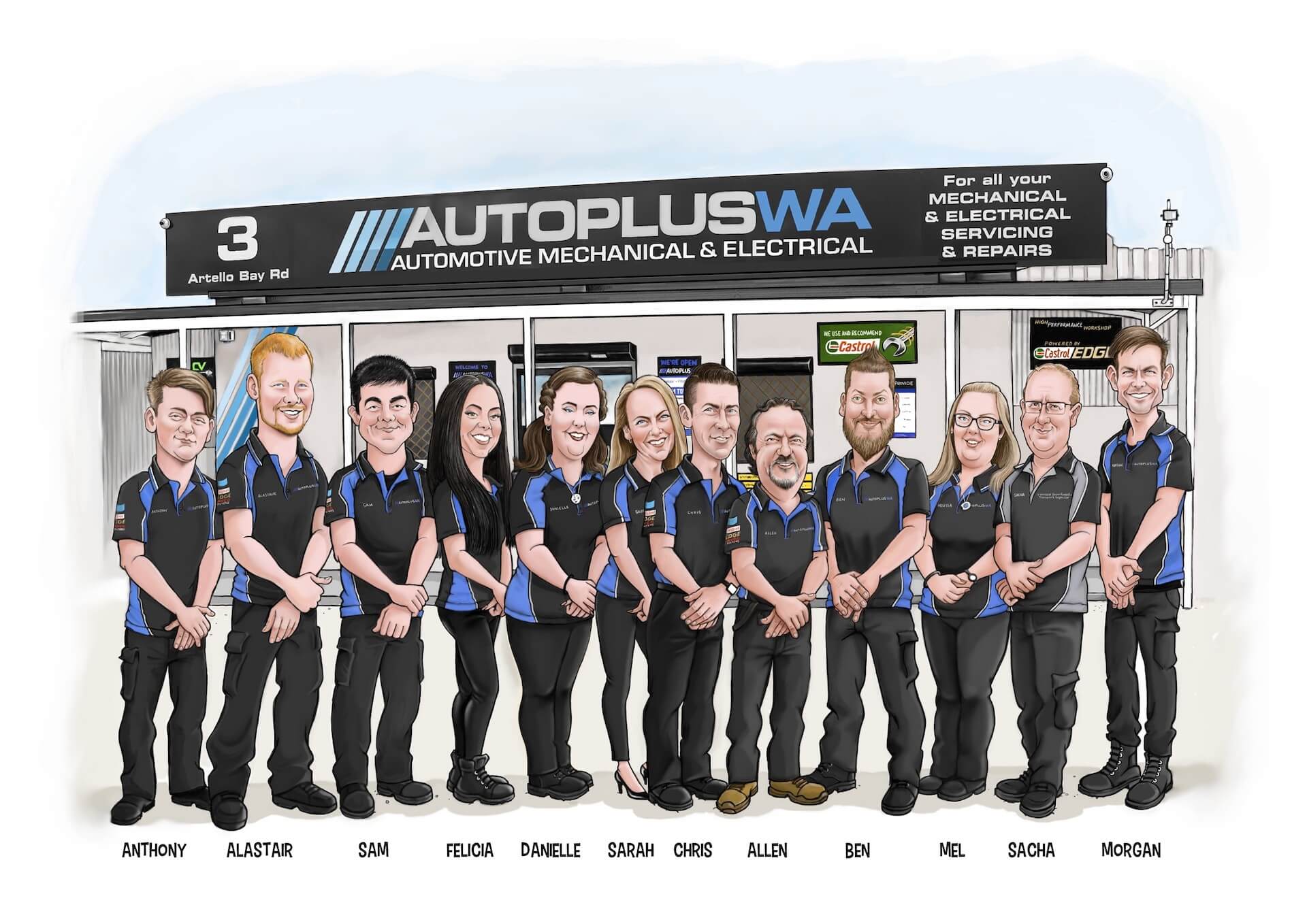 Welcome to Autoplus WA, your trusted family-owned and operated local business since 2000. We are more than just an automotive repair shop – we are a close-knit family that treats every customer like one of our own.
With decades of experience under our belts, Autoplus WA has earned a reputation for excellence in workmanship and professionalism. Our team of skilled technicians stays up-to-date with the latest repair techniques and utilises the latest technology to ensure your vehicle receives the highest quality care.
As a family-run business, we understand the importance of clear communication and personalised service. We offer a comprehensive range of services, including Mechanical, Auto-Electrical, and 4×4-Specific Services, all delivered with the utmost care and attention to detail.
At Autoplus WA, we take the time to listen to your concerns, answer your questions, and provide transparent explanations of the repairs needed for your vehicle. We believe that building lasting relationships with our customers is key to delivering exceptional service.
Whether your vehicle requires routine maintenance, major repairs, or specialised attention, our friendly team is here to assist you every step of the way. Feel free to reach out to us to learn more about our business or to schedule an appointment for your vehicle.
Who are we and what do we do?
In a nutshell, We are a family owned and run Automotive business and we keep you and your car safe on the road. All cars from euro to Japanese, from 1 month old to 20 years old. Whether it be Mechanical or Electrical, Fuel powered or Electric powered a sedan or SUV you can get it all done here by our experienced well trained team in our modern equipped workshop.
Our Purpose
Is to help people achieve their potential.
Our points of difference
We always call before the customer calls us.
Customers are well informed the whole way.
We help our team realize their potential.
We create leaders.
Our Values
We value our mental and Physical Well Being.
We Communicate openly and honestly without judgement.
We take Pride in all that we do.
We Respect ourselves and each other and our customers.
We demonstrate Extreme Ownership in all areas of our life.
We have Fun! 🙂
We value continuous Self-Improvement, learning and sharing of knowledge.
We Exceed our own and our customer's expectations.
We are Family.
Now we feel car servicing is more than that just what services we can offer … Cars are in our blood and we are passionate about our industry and we want you to feel that passion.
So how do we set out to make you feel at Autoplus WA ? Well Read on…
We want you to feel you and your family can get to any destination you wish safely, we want you to feel secure in your own car, we want you to feel you can trust what your service adviser is telling you, and know the technician who is working on your has your best interest at heart.
That's what the Autoplus WA team sets out to do, that's how we want you to feel every time your car is with us.
Our team and our customers are like family to us and we treat you that way.
Now that's what we want you to feel and experience…..
What does Autoplus WA want from you?
We want a customer for life.
We are here for the long run, we want you to know your kids and your family will have somewhere to trust to bring their car to when it's time for them to move on to the road.
We want to build a lasting relationship with you and your car. Our team want to get to know what your personal needs are around your vehicle then tailor it's maintenance and repair needs to suit.
That's how we make sure you're getting maximum value for money, it's the Autoplus WA way.
So if you're looking to feel anything like what we have mentioned in your car, then we might just be the mechanics for you.
Meet The Team
Chris
Managing Director
[email protected]
Been with Autoplus WA since 1998
Hobbies: Driving, Lego, model trains
Favourite Food & Drinks: Pasta, Italian food, red wine, hot chocolate
What makes you laugh?
My kids – they're at the age where you just never know what they're going to come out with next!
What do you love about working at Autoplus WA?
The challenge. It's never idle or boring; the nature of my work changes every day. I love meeting new people and the fact that I can help them look after their car.
I love working with the team we have. At the end of the day we all spend more time with people at work than with anyone else, and we have a great team to spend that time with.
Dream Car?
For racing, a Porsche. For cruising, a BMW. For going off-road, a custom Landcruiser.
Ben
Foreman
[email protected]
Been with Autoplus WA since 2003
Hobbies: Golf, cricket, fishing
Favourite Food & Drinks: Pasta, lasagne, crayfish
What makes you laugh?
My wife and kids, and my own sense of humour – I'm always ready with a one liner!
What I love about working at Autoplus WA?
My family has always been in the car industry, so I've been interested in cars since a very young age. The work is always changing, and I learn something new everyday – the love of cars only makes it so much better!
Dream Car?
It was a GT40, I loved the look of them in photos, but in person they're far too small! Now I'd say it's a new Range Rover Sport in black with all the upgrades, to fit my whole family in it.
Morgan
Diagnostics Trainer
[email protected]
Been with Autoplus WA since 2009
Hobbies: Cooking, making or fixing things, spending time with my family
Favourite Food & Drink: Pizza, peanut butter, a hard-earned beer
What makes you laugh?
My kids always make me laugh!
What I love most about working at Autoplus WA?
There are constant opportunities to learn here, and the team here are all great people. I especially like Al's lunches!
Dream car?
An old Ford XM Falcon. I love old Aussie Fords.
Sacha
Lead Inspector
[email protected]
Been with Autoplus WA since 2015
Hobbies: Fishing, ten pin bowling, shooting, videogames
Favourite Food & Drink: Meatloaf, chips, Jim Beam
What makes you laugh?
Most of the time it's in-the-moment happening, sometimes myself – if you can't laugh at yourself, you shouldn't laugh at other people!
What I love most about working at Autoplus WA?
It's a job that keeps you thinking. I work for the feeling I get when I figure out a problem, and it makes a noticeable improvement for our customer. I also enjoy how much the team here is a like a family for each other.
Dream car?
Mustang, Raptor, XY Falcon GTHO
Danielle
Customer Service Manager
[email protected]
Been with Autoplus WA since 2015
Hobbies: Painting, crafting, yoga
Favourite Food & Drink: Mum's lasange, milkshakes
What makes you laugh?
A lot of the silly things that happen around here!
What I love about working at Autoplus WA?
I'm always learning new things here. I also love the family atmosphere, and the love that we put into our customers' vehicles.
Dream car?
A nice new Landcruiser which I'd use to go travelling.
Daniel - Apprentice Technician
Jason - Apprentice Technician
Our Workshop Team
From Left to Right
Sam
Anthony
Sacha
Alastair
Morgan
Ben
Chris